Hi everyone! I'm finding it so hard to believe that I am on my fourth round of research for this cycle. Time has flown by. If you don't know already, my inquiry question right now is "Why is Vancouver one of the most expensive places to live?" This round I looked at climate/weather, geography and recreational activities you can do when visiting or living here. Some parts of this round are similar to last round, only because last round, I looked at factors (possible activities and things) that may be drawing people to come here. Like climate/weather, I talked about in the last post, even though I had a round where I was supposed to talk about it too, so I still added it to this post. However, I do go more in depth this round, and perhaps you see some activities you have yet to explore in the Vancouver area!
Reminder: Like all rounds this cycle, my opinions/thoughts on each topic, are in blue.
Climate/weather:
Vancouver is different from the rest of Canada, since the Rocky Mountains block us from receiving the cold winds from the arctic. Sine we are one of the warmest of Canada's metropolitan cities during the winter months, our mild winters consist of very little snow, when compared to other parts of the country. (1) The annual average of snow here in Vancouver is around 48.2 cm. (2) However, Vancouver is also very wet, and even foggy. During these winter months, it can rain for weeks on end. (1) There is an average of 166.1 wet days in Vancouver, which amounts to 1,199 mm of precipitation PER YEAR. (2) That is almost more than 1/3 of a whole year where it rains! The fall months (September, October, November) have an average temperature of around 6-12 degrees Celsius. Whereas the winter months (December, January, February, some March) average 3-7 degrees Celsius. (3)
On the bright side, Vancouver's wet winters are met with awesome summer heat. The summer months have tons of sunny days, and little to no rain. (1) The spring months (Some march, April, May, some June) average 11-15 degrees Celsius during the day, because this can drop significantly at night. In the summer, July and August are the hottest out of the year and usually reach 22 degrees or even higher some days like 30 degrees. Sometimes a light breeze will blow in from the ocean, to help cool things down. (3)
Geography:
Metro Vancouver is made up of 21 different municipalities like Coquitlam, Port Moody, Burnaby, etc. And Vancouver itself is one of these municipalities. (6) The city of Vancouver is a coastal, sea port city on western side of the Burrard peninsula. (4)
North of Metro Vancouver is the Coast Mountains, to the south is the U.S. border, to the west is the Pacific Ocean, and to the east there's Maple Ridge and Langley. The strait of Georgia separates Vancouver Island from the mainland. (6) And the Burrard inlet separates Vancouver from North and West Vancouver. (5) Suburbs such as Burnaby, Richmond, North and West Vancouver all border the City of Vancouver. (6)
Here, snow-capped mountains greet the vast ocean all at once, making it the perfect destination for someone who wants to experience it all. That is why Vancouver is known as one of the most livable cities. There is so much to see and do. (7)
Could perhaps geography be a factor of affordability in Vancouver?
Many believe foreign investment is the main reason why it's so expensive to buy a house here in Vancouver. However, Vancouver's geography could be a very big reason as to why the housing market is so crazy here.
Metro Vancouver is 2,870 square kilometers. Less than one third of that is able to be used for housing. This is because many policies do not allow developers to use much of this land. Perhaps this lack of land to develop, is what is causing the prices of houses to rise? (Supply and demand?)
Here is how the land is divided up:
554 square kilometers is protected for the Agricultural Land Reserve (This is a provincial policy, to ensure that good soil is protected in order to be able to grow food.)
1,347 square kilometers is reserved for conservation and recreation. These are things like parks, floodplains, marshlands, etc.
136 square kilometers is for industrial factories
114 square km is rural area
701 square km urban area
Only 840 square km is left, which has some developed places, and some that are able to be developed. This mere 840 square km includes industrial, residential (houses), commercial (business), and retail. The regional district and local governments (municipal) created an Urban Containment Boundary to make sure that the cities don't continue to grow more and expand into other cities. (9) The picture below shows this:
Recreational Activities:
I really enjoyed looking into these popular places to visit around Vancouver because half of them I haven't even been to. Not only am I learning and expanding my knowledge in this project, but I now have a long bucket list to complete this summer!
I feel there are many "Well-known" places in Vancouver that makes it such a desirable place to live. People around the world want to experience these things and live in the city that has easy access to all of them, so they can enjoy them whenever they like. I know I love that about living here. I mentioned some of these in a previous round, but now I will be going into more depth about what they offer.
Capilano Suspension Bridge:
Being 450 ft. long bridge, and 230 feet high, this Vancouver landmark offers history, culture and nature all in one trip. There are wide variety of activities, like the bridge itself, Treetops Adventure, and the Cliff walk. The cliff walk consists of stairs, platforms and bridges taking you through the rainforest vegetation. Treetops adventure takes you on seven different suspension bridges that are connected to trees.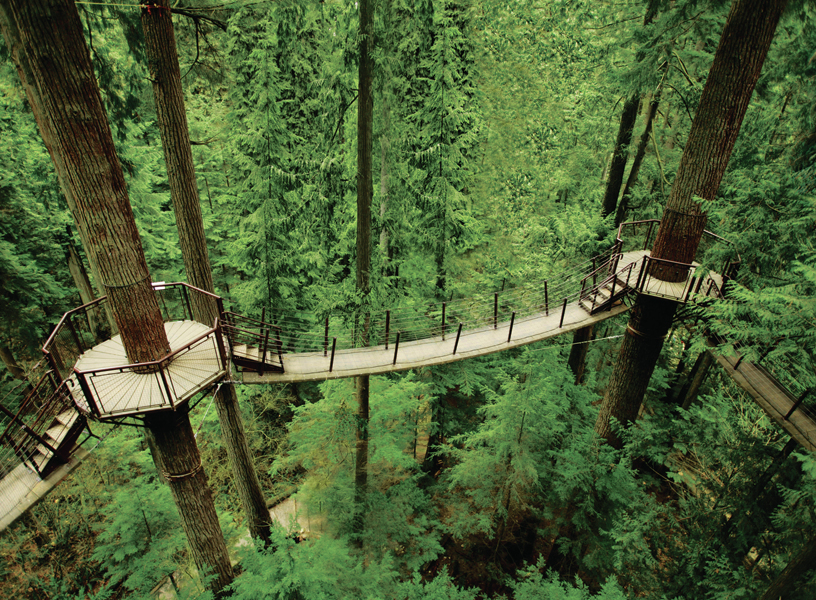 Stanley Park:
I would have to say that Stanley park is the most popular known site in Vancouver. It is known for its famous seawall, horse carriage rides, beautifully carved totem poles all throughout the park, the wide spread of beaches, over 27 km of different forest trails, and the Stanley park train.

VanDusen Botanical Gardens:
This site is over 55 acres of housing 7,500 different plants. It offers a fun hedge maze for youngsters, and plenty of paths to walkabout the amazing oasis of plants.
Fly Over Canada:
If you have ever tried 'Soaring over California' in Disneyland, then you would love this too. It's the exact same! It's a simulator that takes you over all of Canada as if you are actually flying! There is wind, scents and other 4D effects to make you feel like it's the real deal!
Dr. Sun Yat-Sen Classical Chinese Garden:
National Geographic named this garden the world's top city garden. It was built in 1986. With a jade green pond, the famous koi fish, and lots of miniature trees, you can feel immersed in this beautiful garden. It also offers free tours around the garden, and Traditional Chinese tea.
Vancouver Art Gallery:
This is a definite must see if ever travelling to Vancouver or living here. It holds amazing pieces of art done by Canadian, Indigenous, and artists known worldwide. The gallery also offers public tours of all the exhibitions displayed.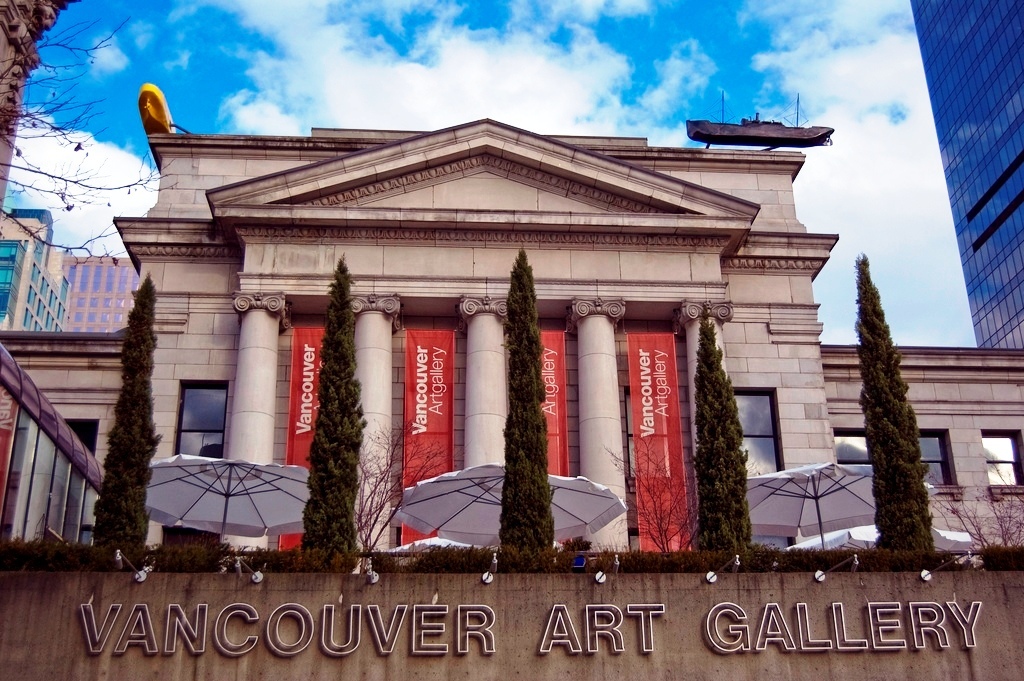 Grouse Mountain:
Being only 15 minutes from Vancouver's downtown core, this mountain has tons to offer all year round for visitors. There is a Sky ride tram that takes you up to the Peak Chalet, where a you can explore the wildlife refuge, and pick from many dining options provided. Winter activities include skiing, snowboarding, the Light Walk, Sliding Zone, outdoor skating pond, or snowshoeing on many of the different trails. During the summer, there is the Famous Lumberjack Show, resident Grizzly bears at the endangered wildlife refuge, ziplining, paragliding flight, helicopter flights and much more.
(10)
Sea to sky gondola:
Just south of Squamish, the 10-minute gondola ride takes you up to spectacular views at the Summit lodges. You can see Howe Sound, Stawamus Chief, the town of Squamish, and the North Shore mountains. There are many walking/hiking trails to explore. A more adventurous trail, is the Via Ferrata where you can climb rocks using various cables and ladders to guide you along. (11)
Sources:
(1) https://www.livingin-canada.co...imate-vancouver.html
(2) http://www.statcan.gc.ca/table...st01/phys08a-eng.htm
(3) https://www.hellobc.com/vancou...climate-weather.aspx
(4) http://vancouver.ca/news-calendar/geo.aspx
(5) https://www.hellobc.com/vancouver/geography.aspx
(6) https://www.tourismvancouver.com/vancouver/geography/
(7) http://www.geog.ubc.ca/about-vancouver/
(8) http://vancouversnorthshore.co...ngs-to-do/mountains/
(9) http://dailyhive.com/vancouver...-affordability-issue
(10) https://www.tourismvancouver.c...ust-see-attractions/
(11) https://www.tourismvancouver.c...o-sky-gondola/26690/
Thanks for reading! Next round I will be looking at the Effects this all has on people, environment, younger generations, and possible solutions to solving these problems that I've looked at these past 4 weeks.