Hey everyone! This is my first research round with my question "How does dreaming vary with age?". For this round, I am going to look at how the sleep differentiates and changes with age.
-------------------------------------------------------------------------------------------------------
The amount of sleep babies need does depend on their age. However, most babies sleep around 15- 18 hours a day. So about 8-9 hours during the day and around 7-8 hours at night, though they usually don't sleep through the whole night until they are around 3 months old. Until then, they are usually waking up every 1- 2 hours at night. As a baby grows, the total time they sleep decreases but then the amount of time a baby sleeps at night increases. (1)
Here's a table that shows how much sleep babies need as they age:
| | | | |
| --- | --- | --- | --- |
| Age | Total sleep hours | Total hours of nighttime sleep | Total hours of daytime sleep |
| Newborn | 16 hours | 8 to 9 | 8 |
| 1 month | 15.5 hours | 8 to 9 | 7 |
| 3 months | 15 hours | 9 to 10 | 4 to 5 |
| 6 months | 14 hours | 10 | 4 |
| 9 months | 14 hours | 11 | 3 |
| 1 year | 14 hours | 11 | 3 |
| 1.5 years | 13.5 hours | 11 | 2. |
| 2 years | 13 hours | 11 | 2 |
(1)
In a baby's sleep, they spend don't spend much time in rapid eye movement (REM) sleep, the stage of sleep in which we dream in.(2) During that stage of sleep however, they are also much more likely to wake up.(3) Their sleep cycles are much shorter than one in an adult. (1) A baby's sleep cycle on average is usually around 50 minutes and those sleep cycles are divided equally. Whereas 20-25% of an adult's sleep is slept in REM sleep, each sleep cycle takes around 90-120 minutes. (2)
In a baby's REM cycle, the brain is usually developing, consolidating, and solidifying different physical and cognitive skills . (2,4) Sleep is also really important in a baby because the brain needs to develop the brain hemispheres which is crucial for languages, relationships and reasoning.(3,4)
Baby's sleep cycle
Toddlers need around 11-14 hours a day, whether they need a nap or not depends on the child, but they usually stop needing naps after 5 years old. They follow the same,regular REM and non REM sleep cycle(around 90 minutes each) by the time they are preschool age. Because at such a young age children usually have a really wild imagination, toddlers usually have scary nightmares and creative dreams. They also have a lot of energy. Because of all that, it's often hard to get a toddler to fall asleep and stay asleep. It could also lead to sleepwalking and sleep terrors. However, there a few things parents can do to help the process. They could make sure that the child is following a regular sleep pattern(going to sleep at the same time and waking up at the same time), a calming bedtime routine that will keep them relaxed and not hyper, and sleep in a calm,cool and dark environment each night. (5)
Children from ages 6-13 years old often have much difficulty falling asleep. They need around 9-12 hours of sleep but there tends to be a lot of things in the way, such as homework, sports, and extracurricular activities. Plus, around this age, children usually become interested in technology which can affect things as well. Sleep problems and disorders are common at this age, and technology doesn't help the case at all. Watching TV close to bedtime has been shown to have many effects on sleep, such as refusing to go to sleep, insomnia, sleeping less and having a lesser quality of sleep. (5)
Teenagers need around 8-10 hours of sleep a night and their sleep cycles are different than one in children and adults. (7) When you reach your teen years,the circadian rhythm, which is an internal biological clock, resets. This causes you to fall asleep later, as well as wake up later. (6,7) A brain hormone, melatonin, is released later at night than it would be for children and adults, thus most likely causing the circadian rhythm change. For majority of teenagers, this change in sleep pattern comes at the complete wrong time of life. There is usually a lot of pressure and stress to do good in school; and well, not getting enough sleep could have impacts on that. Many teenagers stay up pretty late due to many reasons such as homework, sports, part time job, and using electronics. School usually starts early in the morning as well, which could decrease the amount of sleep you get by a few hours. Even if a few hours sleep loss isn't big one night, it can have big impacts in the long run. (7) The average amount of sleep that teenagers get is around 7-7.5 hours. Sleep deprivation in teens can affect their mood, behavior, cognitive ability, academic performance.(6)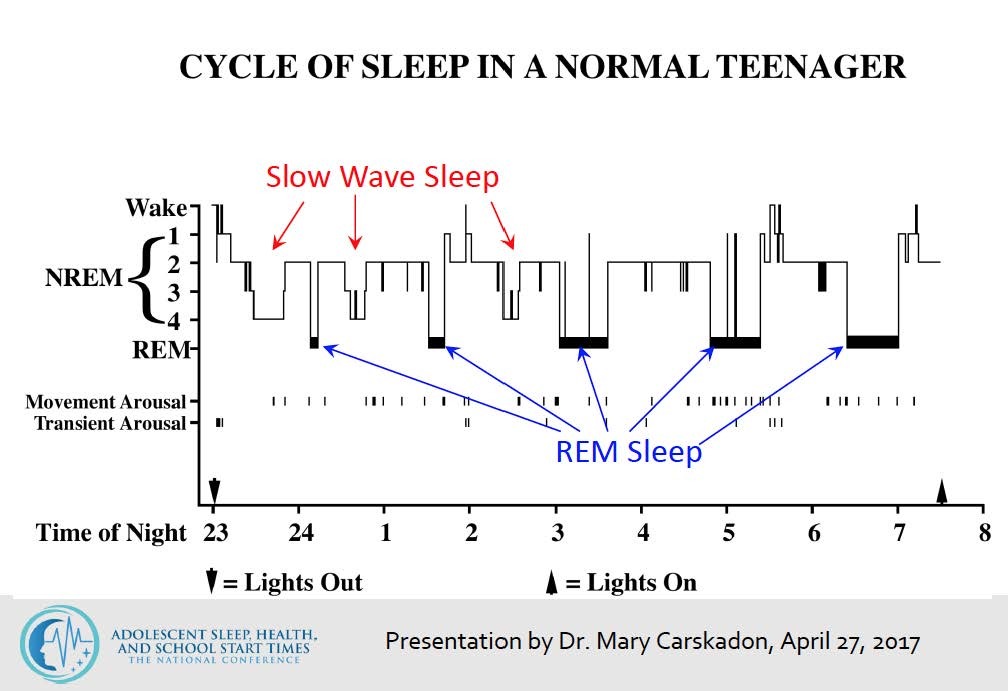 Generally, by the age of 20, sleep cycles and patterns start to stabilize. Adults need around 7-9 hours of sleep, however some can get by with less but some need even more than that. Adults older than 65, can also get by with less sleep. The reason behind why some people need more or less sleep is unknown, but genetics most likely does play a part. (8) There is a rare genetic mutation in the gene DEC2, which causes the person to go to sleep at regular time, but wake up way earlier and feel just as rested as someone who just got a lot of sleep. (9) Adults sometimes do get less sleep just because of complications in their daily lives, such as work, or children. Parents to a newborn baby would be getting significantly less sleep as well, as the baby would be waking a lot and parents need to take care of their needs. (8)
Adult sleep cycle

Websites
1.https://www.stanfordchildrens....fant-sleep-90-P02237
2.https://www.sleepfoundation.or...cle-differs-your-own
3.https://www.pbcexpo.com.au/bab...g-baby-sleep-cycles/
4.https://www.nestedbean.com/pag...ur-babys-sleep-cycle
5.https://www.sleepfoundation.or...s/children-and-sleep
6.https://www.nationwidechildren...sleep-in-adolescents
7.https://kidshealth.org/en/teens/how-much-sleep.html
8.https://www.sleephealthfoundat...owMuchSleep-0716.pdf
9.https://www.ucsf.edu/news/2018...n-reduces-need-sleep
Pictures (In order of which they are placed in my research):
1. https://www.nestedbean.com/pag...ur-babys-sleep-cycle
2. https://www.blisswellnessandsleep.com/sleep-1
3. https://www.shutterstock.com/search/sleeping+cartoon
4. https://slideplayer.com/slide/761153/
5. https://sleepforsuccesswestport.com/the-science/
6. http://sleepincollege.blogspot...cle-of-teenager.html
7. https://www.nestedbean.com/pag...ur-babys-sleep-cycle
---------------------------------------------------------------------------------------------------
For my next research round, I'm going to be comparing the psychological impacts of dreams in children versus adults. If you have any ideas, feel free to leave a comment. Thanks for reading!