In this post, I will be talking about the two different types of prosthetic valve replacements: artificial valve replacements and biological valves replacements. I will be talking about the advantages and disadvantages to both, as well as what types there are.
Types:
Problems with heart valves, such as mitral and aortic valve disease, sometimes need to be replaced by either an artificial (also known as metal or mechanical) valve or biological (also known as tissue) valve. The two most common mechanical valves are tilting-disc and bileaflet. Different options for biological valves include, autograft valves (another valve from the patient's heart is used as a replacement), homograft valves (a valve from the deceased) and heterograft valves (comes from an animal such as a pig).
Tilting-disc mechanical heart valve:
Advantages of Mechanical valves and disadvantages of biological valves:
One advantage of the artificial valve is that it lasts longer than a biological valve. An artificial valve last 20-30 years, while a biological valves lasts 10-15 years. Artificial valves also tend to be more durable. Infections (like endocarditis) are common after a biological prosthetic heart valve replacement. These biological heart valve replacements seem to have higher risk of infection than mechanical heart valve replacements. "The risk of infection in the artificial valve was about 50% higher with biological prosthesis than with a mechanical." (ScienceDaily, 2019).
Advantages of biological valves and disadvantages of Mechanical valves:
"The blood flow around the mechanical valve results in high sheer stress, our own clotting defense mechanisms can contribute to a higher risk for" (Holy-cross.com, 2019) blood clots inside a blood vessel (which will stop the flow of blood through the circulatory system) and all in good time, an obstructed artery. Because of this, patients must be on anticoagulant medication for the rest of their life, like a vitamin K such as Warfarin. Also with this there is a "higher risk of bleeding complications associated with anticoagulants. Bleeding risk increases with age." (Holy-cross.com, 2019). Another disturbing thought is that Warfarin is used to kill rats, very strong stuff, but it is still commonly used as medication (no need to worry...too much). If a patient is on other medication while taking Warfarin it may mess things up.
Bileaflet mechanical valve: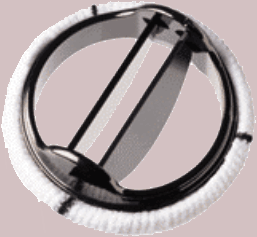 The Decision:
Really it comes down to the age of the patient and what their needs and wants are when choosing between an artificial or biological valve. A general recommendation when it comes to age is patients younger than 60/65 can receive a mechanical valve (because mechanical lasts longer) and patients older than 60/65 can receive a biological valve (this is a recommendation though, either one can still be done). Another thing that can make up a young woman's mind about which one to choose is pregnancy. Warfarin should not be used during pregnancy, so a biological heart valve may be a better option then. It is a hard decision to make, a 50% chance of infection with a biological heart valve or Warfarin for the rest of your life with a mechanical heart valve.
I know the last time I said I was going to look into artificial hearts or pancreases for this round, but I changed my mind and will do that for next time. That is if I don't get steered off in another direction again.
Bibliography: