This semester, my inquiry question is "what is the relationship between music and trauma?" This question is quite vague on it's own, so I will be breaking up the topic into different sections!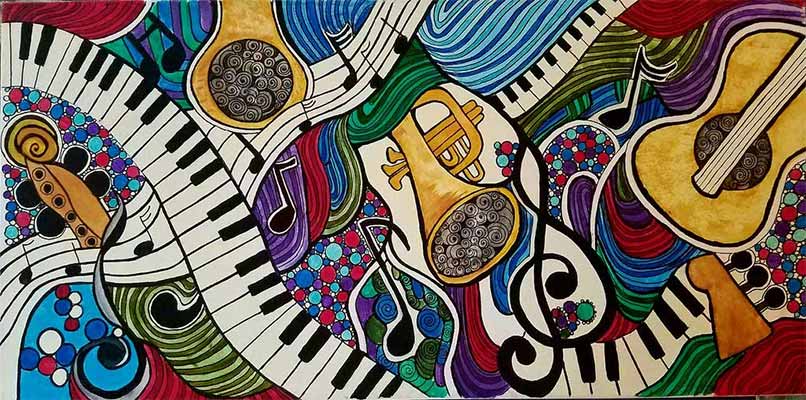 My first step to my research will be learning about how music affects humans in general.  Why do certain songs stay with us since childhood? And how does it affect the way we grow, and who we are as people? Music is something that is so simple, but can also be complex. I think there are so many things that music does for us. There are many reasons why we listen to music, otherwise, nobody would listen to any music at all, and I want to have a better understanding of that!
My second step will be researching more about the direct relation between music and trauma. I will also talk about music and mental health in general, but more specifically related to trauma. Music has saved so many lives, and it is always there for people whenever they need it. Especially when you feel alone, music will always be there. Music has also helped many survivors of traumatic experiences with their healing journeys. This is because music can reach a part of our brains that human connection cannot, and I think that is such a fascinating thing to think about, and I want to know why it can do that. What makes music so powerful that it can help people survive in the darkest of times?
My last step will be learning about different ways music has helped different people. For this step, I will ask some of my friends and family members about ways music has helped them, and what music means to them. Personally, I can't imagine a world without music, and I think it would be interesting to see what other people's point of views are. In elementary school I remember having a friend who absolutely despised music. I never understood it then, and I still don't understand it now, but I would love to have a better understanding of it now!
How this question will have implications for other individuals and my community: 
I think this is an important question for many people because of how music can affect people. Music can save lives, and remind us that we're not alone. I think more people will benefit from knowing that music will always be there for them, and it's important to know how great of a coping mechanism it is. Music can also bring back our deepest memories, especially dark ones, and i think it's important to know music can do that so we can heal from certain events while knowing that we aren't alone.
5 sources
https://www.hopkinsmedicine.org/health/wellness-and-prevention/keep-your-brain-young-with-music
https://pitchfork.com/features/overtones/can-music-heal-trauma-exploring-the-therapeutic-powers-of-sound/
https://www.kqed.org/mindshift/53880/how-making-music-can-help-students-cope-with-trauma
https://blog.flat.io/the-role-of-music-in-the-trauma-healing-process/#:~:text=Music%20has%20a%20great%20impact,expression%2C%20or%20even%20trauma%20management.
https://www.theguesthouseocala.com/how-does-music-therapy-help-heal-trauma/
Thank you for reading (: