Galicia Gordon
Social Responsibility
December 10th, 2020

Inquiry Question: In which ways does gender affect students' educational abilities?

Inquiry research round #3:

How Gender Plays On Abilities Of Students In Education 


Greetings everyone! This is my last round of research for my Inquiry Research Project. I am quite proud of my work through this Inquiry project, and am certainly going to remember it, in the long-term! I am often asked how I am motivated to work hard and always put my best foot forward. To that, I honestly think a large part comes from the continents in my inquiry project, specifically. I think taking a readthrough of my inquiry project, you will come to realize the diversity in educational abilities throughout the world. Now, this final round of research is additionally supportive to both my readers and young men/women in recognizing the privileges which come with their education. The gift of learning is often overlooked and seen as solely a stage in life. I would like to conclude my inquiry project by shining light on how both genders' abilities can be (or are) a wonderful stepping stone into their futures.


Nearly 50 percent of women had no formal schooling sixty years ago, and their average level of educational attainment was just 3.3 years. By 2010, there was no formal schooling for just a quarter of adult women and their total attainment had risen to 7.7 years. [1] Observing this to date, it is a fantastic progression. The challenges faced by women are often social and cultural. From the moment they reach kindergarten, they behave against women, instilling in very young girls a conviction that they are less innately skilled than their male counterparts, and persisting in their work lives. [1] [2] Educational organizations are themselves complicit in strengthening the challenges, with certainly many well-intentioned educators. We probably need educators at all levels of education to investigate their own prejudices and perceptions in order to dismantle these obstacles. [1] [2] [3]
According to UNESCO, gender inequalities in education around the world are mainly determined by "poverty, geographical isolation, minority status, disability, early marriage and pregnancy, and gender-based violence".  [3] On average, boys outperform girls at school in developing countries. They are even poorer at reading, less likely to go to university, and in countries such as China and Singapore, their lead in mathematics is diminishing. In Britain, working-class white, male -prominent students perform particularly poorly. [2] [6] In reality today, both girls and boys receive a lot more education than they did 60 years ago. In 1960, the average level of education for adult males was 4.1 years, and more than double that in 2010, over the course of these most recently documented records. [1] Over the same time, the proportion of men with no formal education fell from 37 percent to 10 percent.
Persistent assumptions about the relative ability of school girls and boys have a direct effect on the form of subjects sought by students. [7] [8] Research indicates that when a teacher induces bias in the classroom, in turn, the students will support or produce bias in their own experiences through education. [9] Although women continue to fight to break the cycle of under-representation in male-dominated occupations and claim not to be excluded from power roles, some girls are still likely to never set foot in a classroom. The World Bank Group reports that 131 million girls remain out of school worldwide and face many hurdles to having a decent education. [11] Additionally, The Universal Declaration of Human Rights sets out the universal right to education irrespective of gender, but the reality is very different for girls and women. Education prejudice against gender is common across the world, and girls and women are frequently left behind. [12] Statistics indicate that, compared to 10 million boys, 15 million girls of primary school age will never get the opportunity to learn to read or write in primary school. [6] [7] [8]  [9] [11] [12]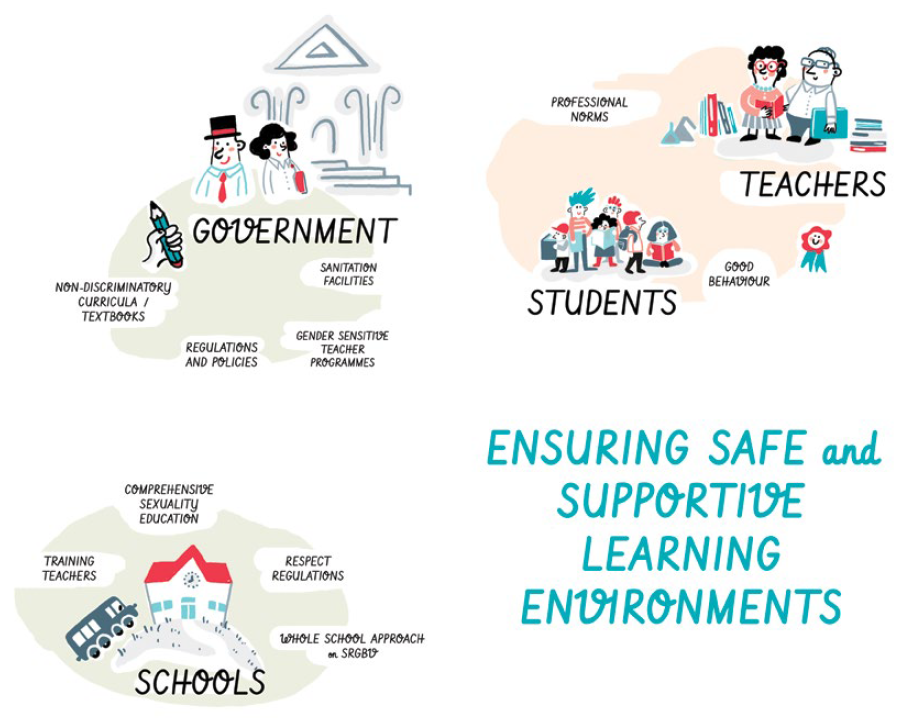 Reputable Sources:


Thank you for reading! Now that you have learned this, how are you taking it into account? Does this research paper influence your actions or get you thinking? I'd love to know!
All the best,

Galicia.